A heavy quarter for NVIDIA with 900 tons of H100 AI GPUs delivered
NVIDIA, known for pioneering graphics processing units, has recently seen its H100 AI GPUs make significant waves in the market. According to data from market research firm Omdia, NVIDIA shipped an impressive 900 tons, or approximately 300,000 units, of H100s in the second quarter of 2023.
What's intriguing about the report from Omdia is the unique metric of measurement — weight. The firm approximates the weight of a single H100 GPU, inclusive of its heatsink, to be over 3 kilograms. Based on this estimation, the shipment numbers are both surprising and indicative of the demand for NVIDIA's cutting-edge GPU technology.
The H100 GPUs come in varying form factors, each with distinct weights. For instance, the H100 PCIe card weighs about 1.2 kilograms. While the exact weight of the H100 SXM module remains undisclosed, comparisons can be drawn with the OAM module with heatsink, which weighs about 2 kilograms. Omdia's assumptions factor in that a majority of the H100 shipments are modules, with a smaller fraction being cards, pegging the average weight of a single H100 at approximately 1.84 kilograms.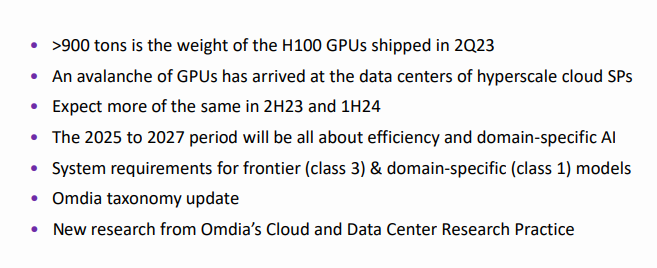 The sheer volume of NVIDIA's shipments in this quarter paints a picture of the booming genAI industry, with H100s taking a central role in the shift. The company's projections hint at ambitions to ship between 1.5 million to 2 million AI GPUs by 2024, predominantly featuring H100s. Given the current pace, NVIDIA appears well on track to meet, if not exceed, these targets.
For those wondering about the tangible impact of 900 tons, this weight is equivalent to:
4.5 Boeing 747s

11 Space Shuttle Orbiters

31,579 Adult Bobcats

32,727 Golden Retrievers
Such comparisons not only add a sense of scale but also emphasize the monumental achievement of NVIDIA in just one quarter.
Moreover, NVIDIA reported sales worth $10.3 billion from datacenter hardware in Q2 of fiscal year 2024. The demand for AI GPUs is so high that they are currently sold out for the remainder of the year. This insatiable demand suggests that shipment rates will likely ramp up in the coming year, further solidifying NVIDIA's position in the AI GPU market.
The tech giant's dominance seems unassailable, with no competitor coming close to NVIDIA's shipping volumes. As the year progresses and the demand for GPUs continues to grow, the industry will keenly watch NVIDIA's strategies and innovations, especially as we move towards a future where efficiency and domain-specific AI become central themes from 2025 to 2027.