Bungie laid off employees and delayed the releases of Marathon and Destiny 2: The Final Shape
In a recent turn of events, Bungie, the developer behind Destiny 2, has reportedly laid off an undisclosed number of employees, leading to the postponement of key releases.
Bungie CEO Pete Parsons expressed his sentiments on X, marking it as a sad day for the studio as they bid farewell to several team members. The news comes as a shock to the gaming community, especially following Bungie's acquisition by Sony last year.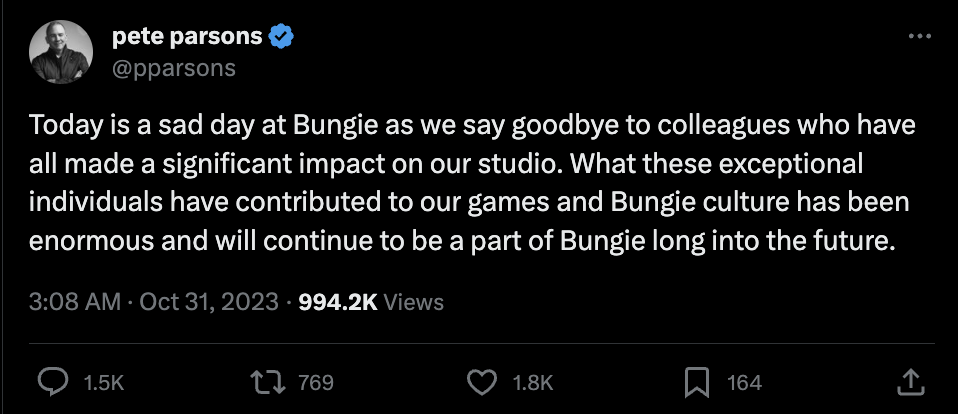 The ripple effects of these layoffs are already being felt with the delay in the release of the much-anticipated expansion for Destiny 2: The Final Shape and the studio's new title — Marathon.
Initially, The Final Shape was set to launch on February 27, 2024, but has now been pushed back to June 2024. This expansion, although not concluding the Destiny 2 saga, is expected to wrap up the game's main storyline. On the other hand, Marathon, a PvP reimagining of Bungie's classic 90s FPS series, now faces a release timeline extending into 2025. It's speculated that this project is a part of Bungie's strategy to broaden its horizons in the modern gaming landscape, stepping beyond the shadow of Destiny where it's been stationed for quite a while.
These delays are indicative of a growing trend in the gaming and tech industry, where numerous other big names have also seen layoffs and subsequent project setbacks. Earlier this year, other studios under Sony, as well as giants like Epic Games, CD Projekt RED, and EA, amongst others, announced layoffs. The tech sector at large has been witnessing a wave of job cuts, underscoring a concerning pattern amidst a competitive and ever-evolving market scenario.
The postponement of these titles is not only a setback for the avid fanbase but also raises questions about the unfolding dynamics within Bungie post the Sony acquisition.